Sandy Roadcap, Violin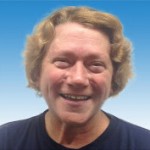 "Put the violin sideways in your lap. Put your fingers down as I say them, and pluck with your thumb: second, first, open, first, second, second, second, first, first, first, second, fourth, fourth. Very good!"
What?! Even as a third grader having her very first violin lesson, Sandy knew you don't hold a violin like a guitar. That was no way to play Mary Had a Little Lamb. She was so disgusted that the lesson was almost the end of violin for her. Luckily, her friend persuaded her to continue playing and now she's been with Prometheus Symphony for 33 years!
Sandy grew up in Lake Forest, a suburb of Chicago. Her mom played French Horn and her father was tone deaf. "He couldn't sing a note, but he loved classical music," Sandy says. He took her to hear the Chicago Symphony and she fondly remembers summer concerts at Ravinia, the Symphony's summer home.
The second violin lesson went much more like a classic public school violin class, with tape on the neck where you put your fingers. None of this modern Suzuki stuff! "I had four siblings in a small house so practicing was more of a theoretical concept," Sandy says. Her sister played her radio loudly and her three younger brothers played loudly—and they loudly complained about the noise of a squeaky violin. Nonetheless, Sandy stayed with it, playing through high school and in community orchestras like the Lake Forest Symphony and the Waukegan Symphony Orchestra at the Jack Benny Center for the Arts (some of us may remember Jack Benny, the violinist/comedian who grew up in Waukegan and helped fund the Symphony). Sandy also teamed up with a bassist for a rare violin-bass duet in the Illinois State Music Competition—honorable mention!
It was then on to Princeton where music provide a right brain balance during intense years of math and sciences en route to degree in Chemical Engineering. She played in the orchestra and in the pit for various shows. While at MIT for a graduate degree, she gave up violin for a few left-brain years. Then she moved (with husband Steve) to the Bay Area for a job at Chevron.
She was anxious to play again and heard about Prometheus from a friend. "Jonathan Khuner was conductor then. I liked the people, I liked the repertoire. I like that in the violin section we're pretty egalitarian; we play first, then second, then first…it's not a competition for seats." She figured Prometheus was a good fit for her. "I have enough stress and competition at work. In orchestra, I want to just dive into the music and play. This is a break for the soul."
Sandy says her favorite rehearsal of each set is the first, sight-reading rehearsal. "We just play the music as well as we can, no expectations, and it's pure fun." Although she also likes the violin sectional where , she says, we seem to play a single measure at a time. And of course performances are what make all the practicing worthwhile. "It's the human element. All the people who come to hear us, their reactions, their smiles. And we can just enjoy playing."
Now that Sandy's kids are older (son and daughter), she has more time to play violin and has started taking lessons again. "Playing music is one of the most humbling experiences. You think you have mastered something and then you realize that there is so much more to learn. I think I might have a mid-life crisis soon—instead of a sports car I just might buy a new violin!" And we hope that she plays whichever violin she has with Prometheus for another 33 years.
~Joyce Vollmer