2019-20 Concert Season
All Concerts are at
St. Paul's Episcopal Church
at 3:00PM
First Concert: Sunday, September 29, 2019  
Antonin Dvořák • Symphony No. 8 in G Major, Op. 88
Hugo Alfvén  • Midsommarvaka "Swedish Rhapsody"

Second Concert: Sunday, November 17, 2019 
 Robert Schumann • Symphony No. 3 in Eb Major Op. 97 "Rhenish"
Maurice Ravel · Boléro
Julia Perry* •  Short Piece for Orchestra  
*The performance of the Perry is part of PSO's Women Composers series
Third Concert: Sunday, January 26, 2020
Jean Sibelius  •  Symphony No. 5 in Eb Major, Op. 82
Carl Nielsen •  Flute Concerto
Maya Stock, flute
Felix Khuner Young Artist Concerto Competition Winner
Fourth Concert: Sunday, March 22, 2020 –
CANCELED in Response to COVID-19 Concerns
Stravinsky and Hoover Works are Planned for May 17th
** See Below **
Fifth Concert: Sunday, May 17, 2020    
Igor Stravinsky • The Rite of Spring
Katherine Hoover  • Medieval Suite
Women Composers Series
Catherine Jennings, flute soloist
-> All Concerts Start at 3:00 PM <-
Pre-concert Talk begins at 2:40 PM

Getting to St. Paul's Episcopal Church
114 Montecito Avenue, at corner of Bay Place
Click Map to help you find us.
Click Parking Info for nearby parking lots, plus BART and other options.
55 Years of Community Music Making
Music Director Eric Hansen and The Prometheus Symphony Orchestra welcome you to our concert series for the 2019–2020 season, featuring well-established favorites as well as innovative, modern works.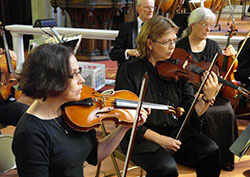 Our all-volunteer community orchestra is devoted to the rehearsal and performance of master works of the symphonic repertoire.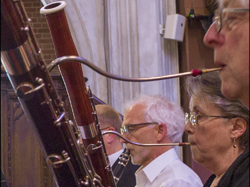 This is our fifty-fourth season of offering concerts to the Bay Area community. There is no admission fee and families with children are welcome.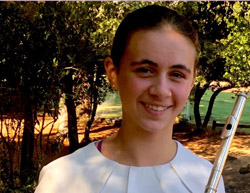 Each season the Prometheus Symphony Orchestra sponsors a young soloist competition  spotlighting the area's exceptional young musical talent.

Season Sponsors

Our Mailing Address:
Prometheus Symphony Orchestra
P.O. Box 3335
Oakland, CA 94609-3335
Contact the webmaster: webmaster@prometheussymphony.org