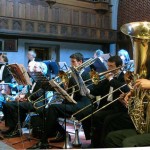 The all-volunteer community-based orchestra is devoted to the rehearsal and performance of master works of the symphonic repertoire. Founded in 1965 as a class at Merritt College in Oakland, Prometheus Symphony Orchestra became an independent not-for-profit organization in 1979. Each season it offers five or more concerts to the Oakland and East Bay communities, with no admission charge so great music is available to all. Concerts are customarily on Sunday afternoons to encourage families and elders to attend in a beautiful and accessible venue near Lake Merritt.
Throughout its history, Prometheus has performed challenging works from the classical era to the 21st century. We feature the greatest symphonic composers from the Classical, Romantic and Modern periods, while also presenting women and African-American composers. Our Khuner Young Artist Concerto Competition discovers gifted young musicians who perform with the orchestra each season. Concert repertoires since 2014 are listed on the Season tab, Previous Concerts page. Many of the concerts are recorded and available from the webpage. In 2020 when we were forced to shut down due to COVID restrections, we substituted a virtual lecture series on music history in place of live concerts, by Music Director Eric Hansen (recordings available on Season tab, Lectures page).
The Orchestra is supported in part by an ArtsFund grant from the Alameda County Arts Commission, a grant from the Women's Philharmonic Advocacy, through the generosity of Chevron Corporation and other donors, from donations from people like you, as well as the contributions and volunteer service of orchestra members.  Without the generosity of our wonderful audience, we could not continue this great tradition. You don't need to wait for the next concert, but can donate here: DONATE. We welcome support of any amount. You will be acknowledged  in concert programs, and your donations are tax deductible.
Board of Directors
John Gilbert (timpani), President
Bonnie Bogue (bassoon), Vice President
Allen Habel (clarinet), Treasurer
Richard Trevor (bass), Assistant Treasurer
Sandy Roadcap (violin), Secretary
Barbara Hodgkinson (oboe)
Hilary Thompson (horn)
Karl Sevareid (bass)
Keith Sklower (oboe)
Joyce Vollmer (violin)