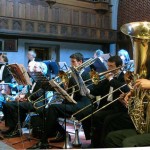 The all-volunteer community-based orchestra is devoted to the rehearsal and performance of master works of the symphonic repertoire. Founded in 1964, the Orchestra is currently associated with Merritt College in Oakland, a campus of the Peralta Community College District. Each season, we offer five or more concerts to the Oakland and East Bay communities, with no admission charge so great music is available to all. Concerts are customarily on Sunday afternoons to encourage families and elders to attend.
Throughout its history, The Prometheus Symphony Orchestra has performed challenging works from the 20th century (including works of Schoenberg, Berg, Webern, Stravinsky, Bartok, Hindemith, and contemporary, women, and African-American composers), as well as the classics of earlier eras. Highlights of recent seasons have included Stravinsky's Rite of Spring, Mahler's Fourth, Fifth, and Ninth Symphonies, Strauss' Death and Transfiguration, and Holst's The Planets. 
The Orchestra is supported in part by an ArtsFund grant from the Alameda County Arts Commission, through the generosity of Chevron Corporation and by people like you.  Without the generosity of our wonderful audience, we could not continue this great tradition.  You don't need to wait for the next concert, but can donate here: DONATE. We welcome support of any amount. You will be acknowledged  in concert programs, and your donations are tax deductible.
Board of Directors
John Gilbert (timpani), President
Bonnie Bogue (bassoon), Vice President
Allen Habel (clarinet), Treasurer
Sandy Roadcap (violin), Secretary
Erin DeBakcsy (violin)
Barbara Hodgkinson (oboe)
Karl Sevareid (bass)
Keith Sklower (oboe)
Richard Trevor (bass)
Joyce Vollmer (violin)