Tom Sellars, clarinet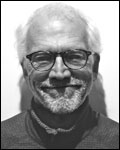 The busker was roller-skating around Ghirardelli Square while playing
a button accordion and, well, who wouldn't want to marry the man?! "I just rolled right up to her (she was also on roller skates, minus the accordion) and was persistent," Tom Sellars says. "We dated on roller skates. We then played all through San Francisco, New York, and Japan.
I played and roller-skated until I reached an age when it seemed better not to be roller-skating." But let's back up. Because Tom is playing clarinet with us, not accordion.
Tom grew up in Lakewood, Ohio, near Cleveland. His father, who played several instruments, took him to a music store one day and asked him to choose an instrument. Clarinet it was. "I liked the way it sounded." At the same time, he picked up his father's accordion and just taught himself to play it. Tom played through elementary school, junior and senior high in orchestra, concert band, Northern Ohio Youth Orchestra and, of course, marching band. He then went to the University of Michigan as a music major. "I lasted one year." Tom decided that he was better suited to being an artist and graduated with an art degree.
San Francisco seemed to offer more opportunities for an artist in the late 1970s, so Tom moved out here. "I sold illustrations to a magazine for $45 and decided that was a really hard way to make a living." Then followed the roller-skating. Having been in marching band playing clarinet, it's just a short glide to being on roller skates while playing accordion, isn't it? Of course it is. But more seriously, Tom also began to work in wood, becoming a fine furniture maker, which he is today (Tomas Sellars Furniture, in the Dogpatch area of San Francisco, working with his brother and son).
Tom continued playing clarinet, with Old First Church, classical groups, and the Deutscher Musikverein of San Francisco (yes, they do play polkas but no, he didn't play accordion). A fellow member encouraged him to join the Freedom Band (the non-marching Gay Concert Band) where he then met Keith Sklower, our oboist. "I started subbing at Prometheus about eight years ago and have been playing as a full member for a few years now." Tom enjoys the orchestral repertoire and hopes to play with us for many more years.
And good to know that should we play a piece that calls for accordion, we have one ready to go
(don't expect any roller-skating though).
~Joyce Vollmer