Sean Mac Aodha, Cello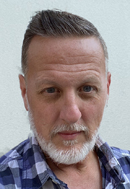 Three instruments: French horn, trombone and double bass. Those are the three instruments that Sean does not play. Yes, you read that right. Here's how that happened.
Sean was born in Los Gatos, California, and grew up in San José. He started piano lessons at 5, continued through high school and at Santa Clara University, where he completed a BA in music on piano. But that's just the simple story.
In first grade, Sean actually played cello for about 9 months until he tired of lugging that big instrument around. His mother preferred winds over strings and Sean switched to trumpet in the school music program, inspired by members of the San José Symphony who came around to the schools. But the cool kids were playing clarinet, so he played that for a while too. As well as saxophone, flute, bassoon and oboe. In high school, he played lead alto sax and flute in a Glenn Miller-style swing band, playing at Elks and Moose Lodges and American Legion Halls. Remember, that his main instrument—and degree—is in piano!
(Oh, Sean is also a fine tenor, singing mostly Baroque music with the Oakland Symphony Chorus, SF Choral Artists, and other choruses—but that's a whole other story.)
Armed with his music degree, "I did what all kids with a music major do. I went to work for a bank." He worked in banking for a number of years before switching careers to a pathology lab, located once again in Los Gatos.
But to get back to that cello.
When he was 25, Sean attended a Baroque music concert and was mesmerized by the continuo cello. "The sound was just so lovely," he says. "I thought, well surely I can do that. Why not!?" Well, of course he could. So he got a cello and started playing. He now sounds as lovely as that continuo and his cat agrees (well mostly the cat snoozes). Oh, yes, no surprise, Sean plays violin and viola too. But cello is his main orchestral instrument now.
Sean found Prometheus through our call for cellists in the newsletter of the Chamber Musicians of Northern California. "This is such a nice, welcoming group. The quality of musicians is remarkably high. And working with Eric is a joy." Thanks for finally landing on the cello, Sean, and amazed thanks for driving almost 100 miles every week to play with us!
(By the way, Sean's last name is the traditional Irish spelling and it's pronounced Mac Kay.)
Joyce Vollmer