Sarah Chong, Cellist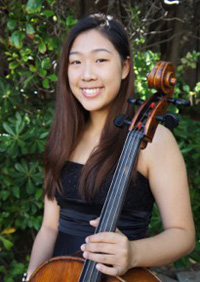 Prometheus Orchestra is proud to announce that Cellist, Sarah Chong, Co-Winner of the 2018-19 Khuner Young Artist Concerto Competition.
Sarah Chong was 17 when she was named co-winner of the 2019 Competition, performing Tchaikovsky's Variations on a Rococo Theme. At that time, she was a junior at Archbishop Mitty High School in San Jose, with plans to enter a music conservatory after high school. She began studying cello at age 9 under Jihee Kim and has entered several competitions since she was 12. In 2018, she was a winner at U.S. Open Music Competition, the Diablo Valley College/Holy Names University Young Artist String Competition, the American Fine Arts Festival Concerto Competition, and the Korean-American Music Supporters Youth Orchestra's Young Artist Competition. In 2017, she was alternate winner in the state division of the Music Teachers National Association Competition
In August of 2018, Sarah was the winner of the Korean-American Music Supporters AssociationYouth Symphony Orchestra Young Artist Competition where she performed the Haydn Concerto No. 2 with the orchestra.
Sarah's summers are always filled with music. In the summer of 2017, Sarah attended the Aspen Music Festival and School where she studied with professor Richard Aaron. She also studied with professor Hans Jorgen Jensen at the Meadowmount School of Music in the summers of 2014 and 2015. In 2018, she travelled to Europe with the California Youth Symphony, where she had been the assistant principal for two years.
Sarah has been a member of the HOP3BOX Benefit Orchestra for three years and helped raise funds for children in Nepal and Haiti. In her free time, she enjoys playing the piano, as she has often accompanied children musicals and plays at church, and also loves watching movies with family and friends. Sarah is an avid writer, as she loves to write in her spare time and has also placed in essay contests.