Roy Bogas, Conductor and Pianist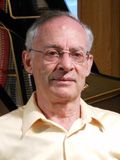 Roy Bogas is a pianist of international renown, debuting with the San Francisco Symphony at age 14 and making his conducting debut with Prometheus in 1976. Roy became the accompanist for violinist Yehudi Menuhin at age 19, playing over a hundred concerts with him throughout North and South America over the years.
A student of Ada Clement, Adolph Baller, Hedwig Rosenthal and Rosina Lhevinne, Roy received piano training in New York and at the San Francisco Conservatory of Music. He was a prizewinner at the Tchaikovsky Competition in Moscow, making his New York and London debuts the following year. In addition to recital work, he has performed as soloist with virtually every orchestra in California, as well as many other orchestras in this country and abroad. You can even download his performances on iTunes!
"I was a piano soloist with what was then the Merritt Orchestra, conducted by Randy Hunt," Roy remembers. "I had studied conducting, but I wasn't actually a conductor." Well, in fact, Roy had studied conducting in Vienna with Hans Swarowsky (fellow classmates included Zubin Mehta and Claudio Abbado!) and then with Richard Lert, of the Mannheim Opera and longtime music director of the Pasadena Civic Symphony.
"When Randy retired in 1976, he knew I was looking for an orchestra and recommended me. I very much enjoyed working with the Prometheus musicians and developing a group sound." Roy then brought on cellist and conductor Sally Kell, as an assistant conductor. "It was clear just how much she enjoyed conducting and I thought it would be wonderful to give her the chance to take over the orchestra." Which he did—he soon became Music Director at Holy Names University and remained there for many years.
Continuing the association with the Bogas family, 20 years later his daughter Sharon Bogas won our Felix Khuner Young Artist Concerto Competition and played the Elgar Cello Concerto in E Minor with us.
Roy is the founder and director of the MasterGuild Series of professional chamber music, as well as the Gualala Summer Festival of Chamber Music.