Nico Sayavedra, Principal Viola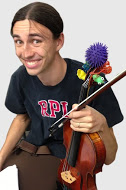 Nico got his first peg monster when he was 7 years old. His viola teacher gave him one, and then gave him another for every Brandenburg Bash he participated in. Take a look at the viola section and you'll see the brightly colored monsters on his pegs, dancing in time with the music.
Nico grew up in the small city of Corvallis, Oregon, population 55,000. One day his mom asked him if he wanted to play viola and he emphatically said "no." Then he asked her what a viola was. Since his best friend was going to play it, he decided to try. His friend quit after six months, but Nico stuck with it through elementary, middle and high school, where they had an excellent orchestra. He played in the Brandenburg Bashes for viola and cello every couple of years, adding to his peg monster collection. By the way, despite his height Nico never played basketball—just what might be a quintessential Pacific Northwest sport of Ultimate Frisbee, the free-spirited alternative to traditional organized sports.
Nico then headed east for college, attending Rensselaer Polytechnic Institute on the Hudson River in New York—the oldest technological university in the English-speaking world. He continued with viola, playing chamber music with the one music professor on campus.
After graduating with a degree in computer engineering, Nico married his high school sweetheart (who had played viola with him in high school but concentrated on singing after) and they immediately moved to Costa Rica. He worked there for a year for a "tiny" company, creating computer applications and enjoying a complete change of pace.
His wife's pursuit of a PH.D. in Math Education at UC Berkeley brought them to the Bay Area last year. Nico found work at HP in Pleasanton, and found Prometheus through an Internet search for community orchestras.
"I arrived when the group was reading the Concerto for Orchestra, by Lutoslawski. It was by far the hardest music any community orchestra was playing. So I stayed." Fairly new to California, Nico finds the state "like another country," compared to the rest of the U.S. We'll take that as a compliment and enjoy his spirited playing (and the peg monsters) with Prometheus for the foreseeable future.