Maya Stock, Flute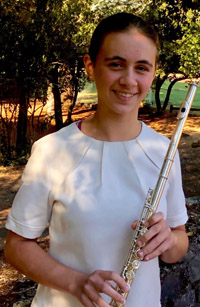 Prometheus Orchestra  announces Maya Stock, flutist, as the Winner of the 2019-20 Khuner Young Artist Concerto Competition
Maya Stock, an extraordinary 15-year-old flutist, will perform Carl Nielsen's Flute Concerto, under the baton of Music Director Eric Hansen at the Prometheus Symphony's concert on Sunday, January 26, 2020.
Maya began playing flute five years ago at the age of ten, and soon began studying with Andrei Gorchov, noted flute teacher and Associate Conductor of the Marin Symphony Youth Orchestra. She quickly gained recognition in Marin County's music-rich environment, being named a winner in Marin Music Chest's junior and senior division competitions in 2017, 2018 and 2019. In 2019, she performed in Marin Music Chest Young Artist Concert where she was awarded, by unanimous vote of the judges, the Alma Tomlinson Award for the most outstanding performance. Maya also won the 2019 Marin Symphony Youth Orchestra concerto competition, performing Mozart's Flute Concerto in D Major with the Marin Symphony.
Maya's talent is quickly gaining broader recognition, underscored by her winning this competition that draws contestants from throughout the Bay Area. She has been selected for the annual California All-State Concert Band two years running. As a member of the highly regarded Marin Symphony Youth Orchestra, which sends its alumni to leading symphony orchestras across the country, she joined in its first Eastern European tour in the summer of 2019, performing in Prague, Vienna, and Budapest.
Maya also has been studying piano for seven years with Janice Clark, and she enjoys running cross country with her high school team. She is a sophomore at Sir Francis Drake High School in San Anselmo.