Andrew Leppla, Violin and Phoebe Stinson Leppla, Viola
(A Prometheus Couple!)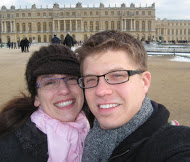 Andy and Phoebe could have been elementary school sweethearts, or middle school, or high school, or even college sweethearts. Except that they never met—even though they grew up just 20 minutes from each other outside Milwaukee, Wisconsin. The coincidences are going to get stranger. They have trophies from the same soccer tournaments and the same music competitions throughout school. Yet, they never met. Milwaukee isn't that big is it?
Andy started playing violin in second grade (despite his mother playing oompah accordion and more likely because his grandfather played violin, clarinet and organ). He played through high school, as concertmaster, and played as well in chamber groups and quartets.
Andy went to the University of Wisconsin, Madison, and majored in chemical engineering. While there, he played in the university orchestra for non-majors—he says they were guinea pigs for graduate students in conducting. He got a job offer from Clorox in research and development and, the day after graduation, he packed up his car and moved west.
At the same time, Phoebe also grew up outside Milwaukee, started playing piano at 5, singing at 8, and saxophone in middle school (along with playing the aforementioned soccer). The orchestra director poached her from band because they needed violas, and she played that through high school (and competed in the aforementioned music competitions).
Phoebe went to the (aforementioned) University of Wisconsin, Madison and, yes, also majored in chemical engineering and, yes, also played in the university orchestra for non-majors. She does remember Andy from there, but sort of peripherally. And then she too was recruited by Clorox to work in R&D and came west (it was winter, there was snow in Wisconsin, it was sunny here, no brainer).
Well, finally! It took Clorox. Andy and Phoebe met properly all the way out here in the California Bay Area while carpooling to the Livermore-Amador Symphony Orchestra. And the rest is history. Andy has also played with the Bay Area Rainbow Symphony. Phoebe sings in musicals with the Tri-Valley Rep, and with the Livermore Valley Opera Chorus and Fremont Opera.
They've been with Prometheus going on four seasons for Andy and three for Phoebe. And they ain't moving back to Wisconsin any time soon. Our gain!