Leigh Hollowgrass, cello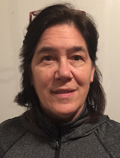 Imagine waking up to the piano sounds of Chopin, Liszt and Rachmaninoff wafting up the stairs…that's what Leigh heard as her mother played in the early hours in Bethesda, Maryland. Leigh took piano lessons starting when she was 4, but switched to cello in elementary school because she was told there was a shortage of cellists. And she played and played though elementary school, junior high and high school.
"We had a good music program and had exchanges with high school orchestras in Philadelphia and Toronto." Leigh got to travel and play with those groups, as well as play in school musicals, in the pit orchestra. But with all that playing, music was NOT what she was really spending time on. That was gymnastics. And she was so good at that (30th in the nation!) that she tried out for the 1972 Olympics! That was the team with Cathy Rigby, remember her? And Olga Korbut won gold. Leigh didn't make the team, but now we can all say we know a US gymnastics champion!
For college, Leigh traveled to Indiana University where she switched from gymnastics to dance and combined that with music to major in Recreation Therapy. Alas, the cello went into a closet for a time. Leigh worked in a psychiatric hospital and then danced professionally in North Carolina's Asheville Contemporary Dance Theater.
Then back to grad school for a degree in Physical Therapy, while she continued to dance. In fact, she met her spouse at a dance retreat in the San Juan Islands (way way up north, above Seattle) and moved to the Bay Area where she has worked as a physical therapist. The cello, well, it (the same cello from elementary school!) came out of that closet just a couple of times a year to play in Irish music jams. When their daughter was old enough, Leigh returned to cello and joined the orchestra. "I've known Yvette (viola) a long time and she finally persuaded me to come to Prometheus. And I'm playing much more musically now than when I was younger." Of course, the dancing continues, through "dance improv jams." And Leigh has a private practice, Forefront Physical Therapy, using several osteopathic approaches for pain conditions.
What keeps her cello out of the closet now? "I really enjoy making music with other people. I've been playing with Prometheus four years and continue to play cello and piano duets with my mother. It's uplifting and glorious. Plus, every week we learn about playing techniques, composers and get all sorts of odd and interesting information from Eric who keeps rehearsals very lively."
~Joyce Vollmer