Terri Knight, oboe/English horn and Jonathan Knight, wind coach, trumpet
(A Prometheus Couple!)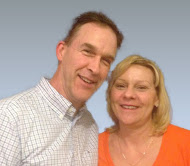 For Terri, it all started when she heard "The Firebird Suite." Because at the time she was playing viola (it was what had been available at her school in Atlanta, Georgia), taking lessons from a violist in the Atlanta Symphony. By seventh grade, Terri was playing viola in the Junior High All State Orchestra. And, oh, she had also picked up clarinet so she could be in the band with friends.
But then she heard the Firebird. She had to play oboe. The teacher gave her an oboe and a fingering chart and said, go learn it. After she'd struggled to play oboe as if it were a clarinet, her viola teacher demanded a real oboe teacher be found for Terri, and that was that. She played both viola and oboe through high school, and tried a double major at Stetson University in Florida. After two years of a split personality, she settled on oboe, going on to Boston University in oboe performance.
Jonathan grew up way out here in Berkeley, playing trumpet, spending summers at Cazadero Music Camp in its first incarnation, and attending UC Berkeley, where he received a BA with an emphasis in music. Then it was off to the New England Conservatory of Music for a Masters in conducting. While there, he started an orchestra for the underserved community in Boston, and Terri auditioned to play oboe. Yes, she got the spot.
Together they went to Long Island, where Jonathan received a doctorate in conducting from State University of New York (SUNY) Stonybrook and conducted the Sound Symphony. After his seven-year stint as director of the Grinnell College Orchestra in Iowa, they came to the Bay Area when Jonathan was asked to help reopen what is now the fantastic Cazadero. He now also teaches at Chabot College; plays trumpet in wind groups, jazz ensembles and musical theater; teaches trumpet; and coaches our wind section.
Terri received a teaching credential and has been teaching music in the San Ramon Unified School District, along with playing oboe in chamber groups and Prometheus, and with Jonathan raising three children (who also play instruments—Jonathan and son Michael have played trumpet with us, and we now know where to go if we need a heavy metal guitar).
Terri says she'll be with Prometheus until she can't hold an oboe anymore. Batons are lighter than oboes, so we're thinking and hoping that they'll both be with us for a very long time!
~Joyce Vollmer