Keith Sklower, Oboe and English Horn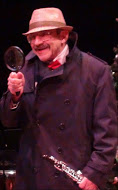 What do a krummhorn and the San Francisco Gay Freedom Day Marching Band and Twirling Corps have in common? Keith Skowler of course, our long-time oboe and English horn player. To explain…
Keith was born in Albuquerque, New Mexico. His mother was a classically trained pianist and his father played jazz saxophone and piano in a swing band for fun. Keith wanted to play piano from a very young age, but his mother, remembering her long years of strictly enforced, not-so-fun practicing, didn't want to inflict that on him. So he craftily got a babysitter to explain the musical staff to him (you know, the "every good boy does fine" and "face" concepts). "It didn't seem that complicated to me," Keith says, "so I starting picking out tunes on the piano from sheet music." His mother heard him, acquiesced, and he had piano lessons throughout elementary school.
"But when I started Junior High she didn't want me to study music too hard on top of schoolwork, so she said, 'Oh, you can be in band, that will be easier.'" She had no idea Keith would choose the notoriously difficult double reed oboe! He loved the challenge, even though it was six months before he could get a decent sound going, and he played for the next three years. By High School, he had started playing flute as well, and stuck with that for three years.
College took Keith to Reed College (yes, the name is prescient) in Portland, where the Portland Junior Symphony had many flutes but was desperate for oboes. Back to the oboe, which he's been playing ever since.
It was at that point that Keith picked up the krummhorn, which means "bent horn," to play early music. It is a double reed instrument, but you don't actually hold the reed in your mouth as you do with an oboe—it's constructed something like a bagpipe chanter with the reeds recessed inside a protective cap. It has a very limited range and makes a quiet buzzing sound so you need a hecka lot of them with different ranges to actually play a piece of music. You'll not be seeing one today!
Back to Keith. He came to UC Berkeley for graduate school in Math and played with the UC Berkeley Orchestra. When his dissertation advisor went to France on sabbatical, he went as well, playing with five French groups, including the concert band started in 1895 by the members of the Northern Line of the French Railroad, an orchestra started by members of the French Post Office and Telephone Ministry, and the orchestra of the Science Campus of the University of Paris.
~Joyce Vollmer
When Keith returned to the Bay Area, he landed with Prometheus Symphony (and if you look up, you'll the microphone Keith sets up to record our concerts), the San Francisco Gay Freedom Day Marching Band and Twirling Corps (now called the San Francisco Lesbian/Gay Freedom Band and it's all become clear now, right?), the Symphony in the Mountain (Diablo) and, most recently, the Golden Gate Park Band started in 1883, which plays on Sundays in the summer in the Music Concourse.
Keith has now gone back to school to get a BA in music performance, because, as he says, "my level of playing didn't match my level of imagination." We simply can't imagine that!
What's next? Keith will be lobbying our conductor to play the Ned Rorem Concerto for English Horn and Orchestra. Watch this space for details…