Karen Lum-Nackley, violin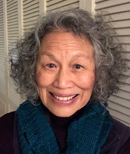 "My teacher tootled up in his old Studebaker, and gave me a violin lesson for $2 an hour!" Oakland native Karen Lum-Nackley remembers starting to play violin in third grade, and continuing lessons for nine years. "Oakland schools had a great music program, which enabled me to play in robust orchestras from elementary school through high school."
Then came a 38 year break, while the violin patiently awaited her return. Karen went to UC Berkeley for degree in zoology, then to USC School of Medicine, followed by a pediatric residency at Children's Hospital in Oakland. After residency, Karen and her family, with 3 children, lived in the Sacramento area, where she practiced pediatrics full time for 17 years. Returning to the East Bay in 1994, she worked part time, covering an allwomen office for 15 years. She and husband John, also a pediatrician, retired in 2010. Retirement has provided the opportunity to devote more time to family, enjoy her 8 year old grandson, pursue volunteer literacy work, and play music.
One fateful day in 2000, Karen attended a Gold Coast Chamber Players Brandenberg performance, and got the violin bug again. At last! The violin came out of its case. After some lessons, she played with Oakland Community, Temple Hill, and Holy Names University Orchestras. Through our member, Sara Kaplan, she met Eric Hansen, and started lessons in 2015. "He said initially, 'I can hardly wait until you play better than you do!' Though shaken, I convinced myself that was a compliment. Thus began my past four years of learning how to play better." The violin bug is contagious, as daughter, Jennifer, has recently started violin lessons with Eric.
Karen joined Prometheus in 2016, and has been playing faithfully ever since. "I know I'll get a lot out of coming to every rehearsal, even the very next day right after a concert! I'm excited, committed, and grateful to belong to the Prometheus community." We'll take that as a compliment!
~ Joyce Vollmer