Jonathan Khuner, Conductor, 1980-1991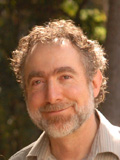 Prometheus Symphony was Jonathan Khuner's very first orchestra. "The orchestra was great training for me. I had studied conducting and then I had a chance to try out all my learning."
Jonathan is a native of Berkeley, and earned degrees from UC Berkeley in Mathematics and Musicology. "I really looked forward to every rehearsal," he says. "It was a very warm group and I liked that people have so many interests along with music."
Under Jonathan, the orchestra bloomed. "Some told me, 'It's a community orchestra. Just let them play; don't try to push them.' But that's exactly what I wanted to do. I knew members don't have much time to practice. But I felt that with a little push, I could teach some things and we could play really interesting music."
And we did. We ventured beyond the classic community orchestra repertoire into Mahler, Weber, Schoenburg and Bruckner. And because Jonathan was soon hired by the San Francisco Opera as an assistant conductor, we were often joined by young singers, including baritone Mark Delavan (now appearing in the Opera's production of Tosca), and sopranos Nancy Gustafson and Ruth Ann Swenson. We did semi-staged productions of Chabrier's Etoile, Weber-Mahler's Die Drei Pintos and performances of arias from Mozart's Marriage of Figaro. And one December we performed the entire Nutcracker ballet with Berkeley Ballet Theater.
With Jonathan came his remarkable father, violinist Felix Khuner, who joined us after his retirement from the San Francisco Opera Orchestra in 1983. Felix modestly sat in the back of the violin or viola sections, saying that he could best influence our playing by leading from the back. He played with us well into his 80s, and Jonathan fondly remembers conducting his father in the solo of Mahler's Das Lied von der Erde. The annual Felix Khuner Concerto Competition for young musicians is a highlight of our season, with one or two superbly talented young people performing each year since 1991.
The orchestra greatly benefited from eleven years of varied and challenging music with Jonathan. "As my schedule got more intense at the opera, I brought in George Thomson as assistant conductor. But eventually it became less and less feasible for me to continue with Prometheus. I was very sad to say I just couldn't do it anymore." (George took over—his first orchestra!—and conducted us for the next six years.)
Jonathan has been assistant conductor and prompter at the San Francisco Opera for over twenty-five years now, and at the Metropolitan Opera in New York for over ten years. He has also been Musical Director of West Edge (formerly Berkeley) Opera since 1988 and served as Artistic Director from 1994 to 2009.
Besides appearing frequently as guest conductor with various California opera companies, including California Opera Association (Fresno), San Francisco Lyric Opera, Pacific Repertory Opera (San Luis Obispo), West Bay Opera, and Livermore Valley Opera, Jonathan has conducted performances of the New Israeli Opera, Lyric Opera of Chicago, Santa Fe Opera, Miami Opera, Opera Barga in Italy, the Tel Aviv Symphony and the Israel Philharmonic.
He also initiated an opera workshop performance course for the University of California at Berkeley (2001 – 2004), and has given San Francisco Opera Guild Previews on La Rondine and Idomeneo.