Jennifer Boesing, Mezzo Soprano, Beethoven 9th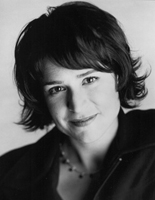 Mezzo-Soprano Jennifer Boesing is also an actor, director and teacher, serving as Artistic Director of the Youth Musical Theater Company in Berkeley. YMTC is a training company that brings professional directors and designers together with young theater artists from around the Bay.
Ms. Boesing began working professionally at the age of nine in Minneapolis, performing with several local theater groups, the Minnesota Orchestra and the Minnesota Opera. After graduating from the Neighborhood Playhouse School of the Theater in New York, she earned a Masters in Music from the San Francisco Conservatory of Music, where she received the Award for Outstanding Achievement in Operatic Performance for her portrayal of Mum in Albert Herring. She performs opera, oratorio, and new music theater, appearing with San Francisco Opera Center, San Francisco Lyric Opera, Pocket Opera, Golden Gate Men's Chorus, Gold Coast Chamber Players, Berkeley Symphony Orchestra, Berkeley Opera, Oakland East Bay Symphony, Oakland Opera Theater, Festival Opera, and North Bay Opera.
Having a particular affinity for new music, she has performed in the premiere of Carla Lucero's opera Wuornos at the Yerba Buena Center; in Vivian Fine's opera Women in the Garden with the Berkeley Opera, singing the role of Gertrude Stein; in the premiere of Eric Sawyer's chamber work Under the Sudden Blue with the San Francisco Conservatory's New Music Ensemble; in the premiere of Gang Situ's opera, The Grand Seducers: Giovanni Meets Xi-men Qing at the Chinese Cultural Center in San Francisco; in the premiere of Wachsenden Ringen, a song cycle of Rilke poems for mezzo-soprano and chamber ensemble by Paul Boesing, with the Organ Vespers concert series in Omaha, Nebraska; and in the premiere of Joelle Wallach's song cycle, A Revisitation of Myth, for mezzo, piano and viola, with the Gold Coast Chamber Players in several performances throughout the Bay Area.