Jeffrey "Paco" Bellamy, tuba (et al.)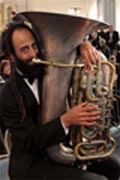 Paco may play—and teach—more instruments than anyone else in the orchestra: tuba, trumpet, French horn, clarinet, flute, oboe, saxophone, electric bass, piano, percussion and, of course, bass handbells! How did this come to be?
Paco, then Jeffrey, grew up in West Covina, in Southern California. He went to Azusa High School, decided that being a drum major in the marching band would be really cool and noted that the drum majors all seemed to play tuba. "The band director and I myself taught me to play tuba," Paco says. He really enjoyed the sound of the bass lines. He marched in the band, sang in the choir and lettered in both tuba and choir.
Between his junior and senior year of high school, Paco joined the Army, having been accepted into the 40th Infantry Division National Guard Band (Mechanized), playing tuba. After his honorable discharge, Paco began college in Birmingham, Alabama, but decided to come back west, so he and his pet tarantula named Blue headed out and ended up in Phoenix. He got a job as a waiter in a Mexican restaurant and realized Jeffrey wasn't the best name there (his name was always being pronounced "heffrey") so he started using Paco and it just stuck.
While attending Phoenix College, Paco became a music major, playing tuba and singing in the choir. He started attending orchestra rehearsals just to observe, because he had never been in an orchestra. His first orchestral experience actually came playing timpani for a Beethoven Symphony. "I didn't get lost, so it worked out ok!" Paco took up other brass and wind instruments (and those handbells) and took private lessons from the principle tuba player of the Phoenix Symphony. His first recital was the Mozart Horn Concerto No. 4—on tuba! Paco convinced the janitor to come on stage after his bow and put a "Wet Floor" sign out where he had been sitting.
Paco also met his wife while in college. In fact, they were Homecoming King and Queen! Her dream was to move to the Bay Area so after they completed AA degrees, they arrived in Oakland. Paco went to Cal State Hayward and graduated with a BA in music. He was then band director for a time at an elementary school, teaching all the wind and brass instruments. He's now a general substitute teacher at Oakland Emiliano Zapata Street Academy (where he's hoping to start some music classes going) and at St. Paul's Episcopal School. Plus he gives private lessons on tuba, flute, piano and guitar.
Paco is also an avid sailor on his 22½ foot sloop, kept in Alameda's Fortman Marina. "It's not a hobby, it's a lifestyle," Paco says. "There's constant cleaning and maintenance. You have to work on your boat all the time. And then you go sailing. And you're transformed."
Amidst all that, Paco still finds time for Prometheus. He knew Andrew Walker, our trombone player, and yes, one day, as luck would have it, we needed a tuba player very last minute. Paco was called in to sight read at the dress and play the performance of Hindemuth's Mathis der Maler (Matthias the Painter). A grand success all around! He hadn't played anything quite like Hindemuth and really enjoyed our repertoire. And we're happy to have a fantastic tuba player who can leap to the rescue if we need those bass handbells too!
~Joyce Vollmer