Hiro Yoshimura, violin Co-Winner Khuner Young Artist Concerto Competition 2022-23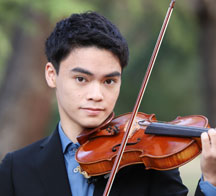 Violinist Hiro Yoshimura, 16, is a junior at Cupertino High School. Hiro has been studying violin since the age of 6, and currently studies with Mr. Chen Zhao of San Francisco Symphony and Ms. Tomomi Matsumoto.
His musical journey started as a toddler, fascinated by Disney's Little Einstein. His elementary school didn't offer music class, but Hiro eagerly joined an after-school strings program sponsored by the school's PTA. After noticing that Hiro often returned home in tears because he couldn't keep up with repertoire, his mom sought out a private violin teacher, Ms. Matsumoto.
Under this new tutelage, Hiro made steady progress playing in public school orchestras at Lawson Middle School and Cupertino High School, and he started winning accolades in local competitions. With bolstered confidence, Hiro joined the California Youth  Symphony in 2016, and the San Francisco Symphony Youth Orchestra in 2020. Hiro became the Co-Principal second violin in the 2021-2022 season, and now plays as Assistant Concertmaster.
Hiro has won top prizes in numerous competitions: the 2022 Pacific Musical Society & Foundation Competition, 2022 Burlingame Music Club Competition in Strings, 2022 & 2020 Korean-American Music Supporters Association Competition, 2022 & 2021 ENKOR, 2021 Houston International Music Competition, 2020 & 2021 United States International Music Competition, 2021 Silicon Valley Music Competition, and the 2019-22 Junior Bach Festival. As Grand Prize winner of 2022 Diablo Valley College/Holy Names University Young Artist String Competition, Hiro will play the Sibelius Violin Concerto with DVC Philharmonic Orchestra in March 2023.
Hiro attended Meadowmount School of Music in the summers of 2019 and 2021 (on scholarship), the Aspen Music Festival (working with Ms. Naoko Tanaka of Juilliard), and the Music@Menlo program in the summer of 2022. A senior home in Palo Alto was so impressed by his piano trio performance with Music@ Menlo that it has invited the trio for regular concert performances. Hiro enjoys performing yet more chamber music as a member of Pueri Quartet at Young Chamber Musicians, directed by Ms. Susan Bates. He is also one of the founders and directors of the nationally-recognized Back to BACH project, Santa Clara county division, a volunteer community program providing free music education to local schools
Besides classical music, Hiro is interested in Japanese culture and music, especially modern J-pop. Hiro serves as Treasurer of the Cupertino High School Japanese National Honor Society. Hiro also loves mathematics, physics and computer science and enjoys working as a tutor for a middle school student and discussing challenging problems with his classmates.
Hiro is grateful and excited for the opportunity to perform Glazunov violin concerto with the Prometheus Symphony Orchestra in January 2023.