Hilary Worthen, French Horn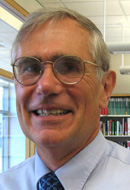 Upon reflection, it really wasn't a Faustian bargain after all. When Hilary was in growing up in Cleveland, he wanted to play trumpet. But, his mother, a pianist, wanted him to play French horn, perhaps equating trumpets more with jazz and preferring the deeper tone of the horn. Hilary and his mother agreed that he could play trumpet for one year only in 4th grade and then he would switch to French horn in 5th grade. "Maybe it was a Faustian bargain," he says, "but I really wanted to play trumpet." Yet, as it turned out, he got the best of both worlds!
Hilary took French horn lessons from members of the Cleveland Orchestra and enjoyed going to summer music camps for many years. "We didn't have much of a music program in school, so summer was a great time to play in chamber groups and an orchestra."
By the time Hilary got to college at Harvard, he had become enamored of jazz, and traded an inexpensive horn for a flugelhorn and it all came back to him. "I played jazz on the flugelhorn in a quintet all through college, doing gigs for spending money." (Apparently his mother was right about the trumpet being a gateway instrument to jazz!)
But both horns went on hiatus during medical school, also at Harvard. "Happily, when I was a Resident at Harvard, I discovered a colleagues who played bassoon, clarinet and oboe. We found a flutist and with my French horn, we had a quintet!" They played together for over a decade. Children and a busy medical career at Harvard (Primary Care/Internal Medicine, Molecular Biology and finally Clinical Infomatics, which is using data/information in Medicine) sent the horns to the closet again.
"When I retired, we moved to the Bay Area to be close to our kids and grandkids," Hilary says. "I almost sold my horn in our downsizing, but thought I'd give it a try again." After some practice and his first lessons in 55 years, he joined the Oakland Community College and played in two wind quintets. Our bassoonist Bonnie Bogue was also a quintet member and recruited Hilary when we had an open seat. "After almost selling my horn, it's now my major retirement activity. Well, that and grandparenting. It's a lot of fun and rewarding to join Prometheus and be part of such a fine horn section!"
~ Joyce Vollmer