Francis Chua, xylophone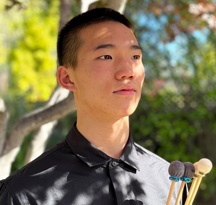 Francis Chua as the Co-Winner of the 2021-22 Khuner Young Artist Concerto Competition
Francis began learning the oboe at age eleven, while concurrently starting studies in percussion. In fact, all four of the Chua siblings play a reed instrument (oboe, bassoon) plus another unrelated instrument. And, they all have at least a second degree black belt in taekwondo. And they have all have swum competitively.
Francis says that "the two instruments definitely give different perspectives in orchestra. Playing percussion can be a lot about the raw power that gives the orchestra weight in heavy sections, sections in which oboe would be entirely swallowed up. On the other hand, oboe can hold the melody lines and meld with other instruments in ways that percussion typically cannot." First, Francis's oboe accomplishments: Francis participated in the 2017 California All-State Junior High Concert Band and 2018 Symphonic Band, playing the oboe. In 2018, he won the Golden State Youth Orchestra's concerto competition. Later that year, he joined the prestigious San Francisco Symphony Youth Orchestra as an oboe and English horn player, traveling on its European tour in summer 2019.
Then, percussion accomplishments: Francis played percussion in middle school band and worked through solos on various percussion instruments. In 2016, he won the California Philharmonic Youth Orchestra's concerto competition on marimba and performed with the orchestra. From the summer of 2018 to the summer of 2021, Francis played percussion and the timpani for the HopeBox Charity Youth Orchestra, helping raise funds for worthwhile charititable causes. In November 2021, he won the Prometheus Symphony Orchestra Khuner Young Artist Concerto Competition on xylophone and is playing with us today.
And now, both! For the 2021 summer concert of the HopeBox Charity Youth Orchestra, Francis, who had been playing timpani and percussion with them, played a double oboe concerto with the orchestra.
Francis has been enrolled in the San Francisco Conservatory of Music's Precollege Program since 2018, continuing the studies he began with the same percussion teacher, Stan Muncy. (Muncy is a percussionist with San Francisco Symphony, as well as a jazz vibraphone player and when he himself was a student, he occasionally played with Prometheus!)
Aside from music, Francis enjoys hiking in the Santa Cruz Mountains and composting and gardening in his backyard.
He will be joining his sister at Stanford University in the fall, hoping to continue his percussion studies with his current teacher and to explore mathematics, economics, and computer science. No doubt we will be hearing much more from Francis in the future!
Xylophone vs. Marimba vs. Glockenspiel vs. Vibraphone
They all look pretty similar! Basically the difference is size, tonal range, and wood versus metal. The marimba is the largest instrument in the mallet instrument family; its range can cover over five octaves (beginning at C), with a dark, full sound. It originated in Africa and is one of the oldest instruments known of. It has longer wood bars and resonator tubes beneath the bars to give the instrument a warmer sound. It's played with mallets (often 4) usually coated with a yarn or cord. The xylophone, which you will see today, is (aside from being an excellent scrabble word!) smaller with shorter wood bars, smaller resonators and is played with mallets made of rubber or plastic. The xylophone occupies a higher range (beginning at F) and has a brighter, more piercing sound. It's more often used in orchestras than the marimba. A glockenspiel (often called orchestra bells) is generally smaller than a xylophone, but with metal bars, so it sounds more…bell like. And the vibraphone is about the size of xylophone but with metal bars and rotating discs in the resonators to give it a wah-wah sound. It's used most frequently in jazz music.
~Joyce Vollmer