Francis Chua, xylophone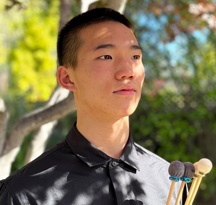 Prometheus Orchestra  announces Francis Chua as the Co-Winner of the 2021-22 Khuner Young Artist Concerto Competition
Following in the footsteps of his older siblings, Francis began learning the oboe at eleven while concurrently starting studies with percussion teacher Stan Muncy. In 2016, he won the California Philharmonic Youth Orchestra's concerto competition on marimba and performed with the orchestra.
He also participated in the 2017 California All-State Junior High Concert Band and 2018 Symphonic Band, playing the oboe.
In 2018, Francis won the Golden State Youth Orchestra's concerto competition on oboe. Later that year, he joined the prestigious San Francisco Symphony Youth Orchestra as an oboe and English horn player, traveling on its European tour in summer 2019.
From 2018 summer to 2021 summer, he played percussion and the timpani for the HopeBox Charity Youth Orchestra, helping raise funds for worthwhile charity causes. For the 2021 summer concert, Francis played a double oboe concerto with the orchestra.
Since 2018, Francis has been enrolled at the San Francisco Conservatory of Music's Precollege program, continuing his studies with his percussion teacher.
Aside from music, Francis enjoys hiking in the Santa Cruz Mountains and composting and gardening in his backyard.