Deanna Doan, Violin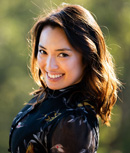 The first thing Deanna does when moving to a new town—and she's done that a lot—is look for a community orchestra. "It's the most emotionally comforting way to feel part of a new community and meet people," Deanna says. "Plus it keeps me playing." How many times has she moved? Let us count the ways.
Deanna was born in the Bay Area, San José. Her first move was as a baby and no, of course she didn't look for an orchestra then. Her father's job moved them to San Diego and then Palmdale. During a 3rd grade parent-teacher conference her parents found out the teacher played violin and both Deanna and her Dad became her first students. "She'd come every Thursday, teach me, teach my Dad, and stay for dinner. It was like she was family."
Next up was Kansas, where her Dad's top priority was finding a new violin teacher. "He got there a few months ahead of us because we waited until the school year was over. The teacher he found was very much in demand and very demanding. "She was so strict she made my Dad cry! So when I arrived, he gave me his lesson spot. She really was strict—but it was because she was so passionate and cared about her students. And that inspired me to practice." And play in youth orchestras from the time she was 10.
High school for Deanna was in Renton, Washington, just outside of Seattle. Yep, her Dad found a private teacher and she played in youth orchestras until she graduated. The next move was a short hop to the University of Washington where she played in the University Symphony Orchestra for two years. "We had six hours of rehearsals every week, so it was demanding. But it also meant I could take private lessons for class credit." With her Engineering major—aeronautics and astronautics—the orchestra became a little too much her final two years. But, she had a recurring internship with the Johnson Space Center in Houston and played with a community orchestra every time she was there.
After graduating, Deanna moved to Pasadena with the NASA Jet Propulsion Laboratory—and played with the Pasadena Community Orchestra. Next. Back to the Bay Area with NASA Ames in Mountain View, soon switching to Planet Labs in San Francisco, where she now operates a bunch of satellites in space that provide images of how the planet is changing. Yes! San Francisco Civic Symphony. There she met her husband Nick, percussionist. How could a violinist meet a percussionist??? "It was a set up. Their section leader invited me to play bass drum in Gershwin's Cuban Overture and said Nick would show me how. It's exactly the opposite of playing violin—we have hundreds of notes and we can hide, but the bass drum has like three notes that everyone can hear." We figure Nick must be a very good teacher. And we might see him play with us soon…
And finally, Berkeley, where Deanna now lives. She was looking for an East Bay orchestra and found us. "I'm really enjoying it. Eric has so much knowledge and is so committed, but we still have fun with no pressure." Okay, we count eight moves.
Final word: "I couldn't have done this without my mom who drove me to so many lessons and orchestras. Thanks mom!"
~ Joyce Vollmer