Davis You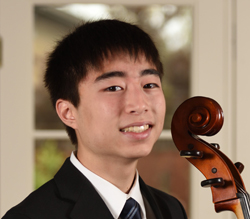 Davis You, Cello Soloist – Winner, Khuner Concerto Competition
Prometheus Symphony welcomes 16-year old Davis You as the winner of this season's Young Artist Concerto Competition. To say his talent is astounding is not saying enough about this remarkable young musician from Palo Alto High School. His choice of the challenging Shostakovich Concerto for his audition was remarkable enough, but his artistic and technically amazing rendition made him the clear winner over a field of 11 talented young auditioners (age 9 to 16).
It takes talent but also dedication to get where he is already. Davis is Principal Cellist of the California Youth Symphony​.​ ​He​ ​studies​ ​cello​ ​with​ ​Jonathan​ ​Koh who is on the faculties of U. C. Berkeley and the California Music Preparatory Academy. Davis ​previously​ ​studied​ ​with​ ​noted cellist Irene​ ​Sharp. Last summer​ ​he​ ​attended ​the​ ​Meadowmount​ ​School​ ​of​ ​Music​ in Westport, NY – a summer school for young classical musicians training for professional music careers.
​Already making his mark as a solo performer, Davis took ​first​ ​place​ ​in​ ​the​ ​2016​ ​California ​solo​ ​competition of the American String Teachers Association,​ ​first​ ​place​ ​in​ ​the​ ​2017​ ​California​ ​Youth​ ​Symphony​ ​Young​ ​Artist Competition,​ ​and​ has received ​five​ ​invitations​ ​to​ ​perform​ ​in​ ​the​ prestigious ​Junior​ ​Bach​ ​Festival in Berkeley.​ He also is ​​a​ past ​winner​ ​of​ ​the​ ​CYS​ ​Associate​ ​Orchestra's​ ​concerto​ ​competition.​ ​He ​was​ ​a​ ​semifinalist​ ​at​ ​the 2017 Tchaikovsky​ ​Competition​ ​for​ ​Young​ ​Musicians held in​ ​Astana,​ ​Kazakhstan.​ ​He​ ​has​ ​performed​ ​in master​ ​classes​ ​of​ leading cellists including ​Martti​ ​Rousi,​ ​Kirill​ ​Rodin,​ ​Sergei​ ​Roldugin,​ ​Laszlo​ ​Mezo,​ ​Ruslan​ ​Biryukov, Andrew​ ​von​ ​Oeyen,​ ​and​ ​the​ ​Horszowski​ ​Trio.​ ​
An​ ​avid chamber​ ​musician,​ ​Davis ​plays​ ​in​ ​a​ ​trio​ (cello, piano and violin) ​with​ ​Young​ ​Chamber​ ​Musicians​and has ​spent​ ​three​ ​summers​ ​studying​ ​chamber​ ​music​ ​at​ ​California​ ​Summer​ ​Music.
A child composer? Yes indeed. Davis You's exceptional talent is further demonstrated by the fact that he began studying composition at age seven, and ​has​ ​participated​ ​in​ ​the​ ​San​ ​Francisco​ ​Conservatory of Music's​ ​Summer​ ​Music​ ​West​ ​intensive composition​ ​workshop.
This is the Khuner Young Artist Concerto Competition's 29th year. Every year a remarkable array of youthful musicians (age 18 and under) audition. We have difficulty selecting just one young talent as Competition Winner. Our alumni have had remarkable careers through this country and in Europe. Visit our website to find out more about the Competition and about each of our prior Winners: www.PrometheusSymphony.org, Concerto Competition tab.