Chapter II – Second Decade 1975-1985
The path of a volunteer orchestra has thrills and spills, requiring ingenuity and dedication to keep going. After our first decade of thrills, Prometheus hit a catastrophic pothole in 1975 when we lost Randy Hunt as our music director and simultaneously our home base at Merritt College. Vista College sponsored us, but could offer no rehearsal space. The First Presbyterian Church on Broadway in Oakland offered that space. We began the arduous task of learning how to be self supporting.
ROY BOGAS, Second Music Director (1976)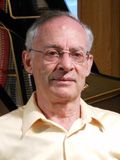 Artistic salvation quickly came in the form of Roy Bogas, a wondrous musician who took an interest in our orphaned group and became our Music Director in 1976. We were overwhelmed that an individual with his stellar international reputation as a concert pianist would share his time and musical expertise with us. Although he was our conductor for only a brief period, Roy returned in 1980 to perform Mendelssohn's Concerto for Piano and Orchestra.  In 1996, his daughter, cellist Sharon Bogas, won our Young Artist Concerto Competition. Roy honored Prometheus by attending our 50th Anniversary Gala in November 2014.
SALLY KELL, Third Music Director (1977-1980)

Our next Conductor was equally inspiring. Sally Kell was principal cellist with the Oakland Symphony, S.F. Ballet Orchestra and Carmel Bach Festival, she founded the Berkeley Youth Orchestra in 1969 and taught at Mills College. As one of the nation's first female conductors (Woodminster Theater, Holy Names-Mills College Orchestra), Prometheus drew her attention. It was a splendid experience all around. She combined high performance standards with a joie de vivre that made weekly rehearsals a genuine pleasure.
The Orchestra had a great time musically with Sally. Her energy and many friends among professional musicians enabled her to pull together vocalists and musical support to produce Dialogue of the Carmelites by Poulenc. The tragic French opera tells of the nuns guillotined in the Reign of Terror following the French Revolution. Written in 1956, its U.S. premier was at the San Francisco Opera in 1957, with Leontyne Price (her own debut).  Prometheus took our production "on tour," opening in Berkeley and performing in Monterey.  With Sally, our concerts included a varied repertoire of great symphonic music.  She organized a children's concert series, so dozens of elementary school kids could hear Peter and the Wolf, Young Person's Guide to the Orchestra, Tubby the Tuba, and Star Wars.  Performance venues included Oakland Auditorium (later Calvin Simmons), the Presbyterian Church on Broadway, and the Mormon Temple auditorium.
Prometheus Gets its Act Together
The second decade found us entering a new era as an independent, self-supporting, all-volunteer orchestra. We now had to pay our music director, plus rent music and rehearsal and concert venues. Through the dedication of orchestra membersand support of friends, we stayed afloat – presenting five or six concerts in every one of our 50 seasons!
To achieve this, we became a legal and financial entity. We incorporated, elected a Board of Directors, and gained non-profit 501(c)3 status, which allowed us to accept tax-exempt donations from the Orchestra's members and many loyal friends. This generosity is the lifeblood of our organization. We are "self-managed" by hardworking Board of Directors, all orchestra members. For a few transitional years, Prometheus had the help of a dedicated young musician, David Lichtenstein as our manager (the only one we've ever had). He still plays keyboard and percussion with us.
Tragedy Turns to Triumph
The Orchestra's next catastrophe came with Sally Kell's untimely death in early 1980. Fortunately, conductor Karla Lemon stepped in and completed the 1979-80 season. She remained an Associate Conductor while we found our way forward. The Greek god Prometheus, whose name we bear, must have been paying attention, because miraculously we found our next Music Director, Jonathan Khuner, who was to lead us for the next 12 years.
JONATHAN KHUNER, Fourth Music Director (1980-1992)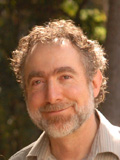 Jonathan came to us in the fall of 1980, gathering us together, musically and mentally, launching an amazing period of musical growth. He said when he joined us:
I am eager to establish a solid relationship with this spirited group and its audiences.  It is inspiring to witness the orchestra's enthusiasm in recreating our musical traditions and sharing them with the community.   I look forward to building upon the Prometheus's past achievements and extending its role in the Eastbay's musical life.
He hit the ground running with a remarkable first season that included a rising star, pianist Jeff Kahane, as a featured soloist. In his second season we collaborated with Berkeley Promenade (now Berkeley Symphony) and Contra Costa Chorale in a performance of Messiaen's The Transfiguration of Christ at Davies Symphony Hall on May 28, 1981.  The Contra Costa Chorale, like Prometheus, is celebrating its 50th anniversary in 2015.
♫ Longevity notes
Continuing the tradition of members joining and staying with Prometheus for many years, violinist Robert Bacskai joined Prometheus in 1977. Now our third most-senior member, Bob is our unofficial chronicler, having kept every concert flyer since he joined.  Aaron Paul is celebrating his 36th year in our horn section. Board Member and violinist  Joyce Vollmer joined in 1980. In 1981 we were joined by Keith Sklower, who plays oboe and English horn, records our concerts and is on the Board, by Ron Cohen, principal trumpet, and Sandy Roadcap, violin. In 1983 came Debra Bartling, violin, and Eloise Bodine, cello.
Among the excellent musicians Jonathan drew was Ida Braun who joined in 1980 and remained a mainstay of the viola section for 25 years. Her husband Edgar Braun, also playing viola, occasionally served as substitute conductor. Ida attended our November 2014 Gala as an Honored Alumna.