Bonnie Bogue, Bassoon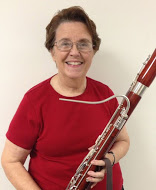 The Steamboat Springs High School Marching Band took to the street for the annual winter carnival as usual—but with one difference from their usual parade formation. They were all on skis. It's hard enough to manage an instrument in a marching band, imagine doing it on skis in sub-freezing temperatures with synchronized kick turns! Bonnie Bogue served as the drum major in the 1950s.
Bonnie's roots are in that small village of 2,000 people in northwestern Colorado where her mother founded Colorado Mountain College. Called "Ski Town USA," Steamboat Springs was always a venue for Olympic ski jumping and later became a ritzy ski resort. Her small high school at the time had a total enrollment of 175 students—and a concert band with 50 players! Clearly, music was an important aspect of life in Steamboat Springs; even the jocks played.
Bonnie, never one to avoid a challenge, has been a bassoon player with the Prometheus Symphony Orchestra since 1966, while conducting a successful law career and raising a son (the first "Prometheus baby" and an occasional trumpet player) who now has kids of his own. She's the most tenured member of the orchestra. She started as a clarinet and saxophone player and took up the bassoon at age 14, when the bassoon player graduated. She liked the bassoon so much that she went to the University of Colorado, Boulder, as a music major. But foreseeing the slim prospects for supporting herself playing bassoon, she changed majors. Then the problem was that she had no bassoon, having played on bassoons owned by her high school and the university.
Bonnie moved to California while her husband was pursuing a PhD, and worked as a secretary on the UC Berkeley Campus. A friend there learned of her bassoon-less plight and volunteered her husband's bassoon since he wasn't using it. She gladly accepted, resumed playing, and went to Boalt Hall Law School, figuring she ought to be sensible and pursue a career that could support herself and her son. After working for 30 years as a lawyer with the Institute of Industrial Relations on the Berkeley Campus, she became a labor arbitrator. And she bought her own bassoon.
Meanwhile, Prometheus Symphony Orchestra was being formed by its first conductor, Randy Hunt. It became a class at Merritt College in 1965, mainly to back the College chorus, which he also conducted. Bonnie was in the group that he had called on to play with his chorus and became a member of the new college orchestra, which Randy named Prometheus. In the early days, the orchestra not only played classical music but also did light opera and dance accompaniment (Oakland Ballet Company). Prometheus produced a full opera, "Dialog of the Carmelites" by Poulenc, that went on tour to Marin and Monterey Counties. Bonnie has played with all six Prometheus conductors and says they've all been different and terrific, although "Eric is the most fun!"
While it might seem a lot of work to practice an instrument and attend rehearsals every week for so many years, Bonnie says it's actually the contrary: "No matter how tired or overwhelmed by life and work, I always feel better after a rehearsal than before. The act of playing music is an exhilarating and heady experience. Through the up and down challenges of a normal life, the orchestra has always been there—a wonderful, wonderful experience."
~Joyce Vollmer