Ava Pakiam, violin Co-Winner Khuner Young Artist Concerto Competition 2022-23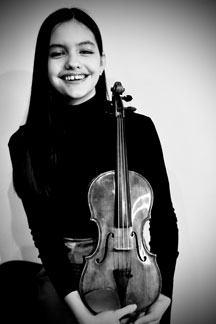 Ava Pakiam is a 12 year old violinist studying at the Pre College of the San  Francisco Conservatory of Music. Ava was admitted into the Pre College  program at age 7 and is currently a student of violin professor Simon  James.
In her first year at the Conservatory, Ava was selected as the youngest first  prize winner of the 2018 Pacific Musical Society Competition and had the  honor of performing at the Green Room in San Francisco. She was also a  featured soloist on the St. Francis Concert Series, giving her first public full  recital that same year in San Francisco.  
Ava made her solo debut with full orchestra at age eight, performing the Mozart Concerto No. 2 with the Fremont Symphony. Later that summer, she performed Vivaldi's Winter Concerto with the Sempre  Musik Orchestra and New York Sinfonietta in Boston and New York City,  making her solo debut at Carnegie Hall.  
During the pandemic, Ava had the privilege of performing in master classes for violinists, Nathan Cole, Noah Geller, Ariel Horowitz, and Hilary Hahn. Ava attended the 2020 Sounding Point Academy virtually in the  studio of Simon James and was selected to play in their final recital  performing Paganini Caprice No. 5 at age ten.  
This past Fall, Ava competed in the Seattle Young Artists Auditions, where she was awarded the opportunity to perform as soloist with the Seattle  Symphony in their 2021-2022 season, playing Saint Saens Introduction and Rondo Capriccioso.  
Along with this opportunity in Seattle, Ava was selected as one of the  young artists to perform for a series of master classes and events with  violinist, James Ehnes hosted by the Seattle Chamber Music Society. 
In the Winter of 2022, SFCM held a special donors event in the newly built  award winning Bowes Center. Ava was chosen as the only student to represent SFCM and performed Vecsey's Caprice No. 1, "Le Vent", to a  standing ovation. 
This past summer, Ava attended the Sounding Point Academy in LA at the  Colburn School. There she had the distinct privilege of being the youngest  student chosen to perform in an evening recital which was streamed live  by The Violin Channel.  
In addition to music, Ava loves art, baking, and creative writing.