Adrianne Chambers, French Horn and Mike Wilson, Bass Clarinet
(A Prometheus Couple!)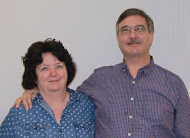 We're not sure if it's maybe something in the water: Adrianne and Mike met at UC Berkeley while playing music, as did many of our other Prometheus couples. But to set the stage….
Adrianne grew up in Southern California, attending Corona Del Mar High School. One day she heard the school's excellent jazz band, decided she wanted to join, and six months later became its newest trumpet player. Now keep in mind that the orchestra was high caliber enough that many of its members also played in the California State High School Jazz Band.
When the last standing French horn player graduated, the music director (impressed at how hard and fast Adrienne had worked to master trumpet) asked if she'd be interested in switching to horn. Adrianne took the horn home over the weekend, learned all the scales, and on Monday was good to go.
Adrianne continued playing horn while attending UC Berkeley, playing in 3-4 jazz ensembles (she didn't tell them she played trumpet so she could continue on horn) and earning a degree in mechanical engineering.
Meanwhile, Mike grew up in Huntington, West Virginia, where he started saxophone lessons in fifth grade and played in bands through High School. He then went to MIT in Boston, majoring in chemistry—and didn't play much during that time. But, then Mike moved west to California. He attended UC Berkeley, earned a PhD in physical chemistry, and picked up his saxophone to play in the same UC Berkeley jazz ensembles as Adrianne played in (they actually met while Adrianne was handling the front desk of the annual Jazz festival). Along the way, Mike stole his sister's flute, picked up a clarinet and a bass clarinet and now plays them all.
These days, Mike plays jazz in a lot of Big Bands (3 O'Clock Jump, Joe Ferrari), pit bands for musicals, a funk band (think Tower of Power) and wind symphonies (among others). Adrianne plays in the Diablo Valley Wind Symphony, Berkeley Community Chorus and Orchestra, Holy Names and musicals (among others).
Together, they play in the Alameda County Light Opera, Contra Costa Community Theater, Stage One, Chabot Jazz Orchestra, and Alterena Playhouse (among others—the lists were just getting too long!).
And, of course, they play in Prometheus. Adrianne first filled in when we needed someone to play a Wagner Tuba (a brass instrument that combines tonal elements of the French horn and the trombone) and eventually joined as our principal French horn player. She played the Strauss Horn Concerto #1 with us a few years ago. Mike joins us whenever we need a bass clarinet or saxophone, like we do this concert.
Well, we've been razzled dazzled—we'll be vociferous, they're just splendiferous!
~Joyce Vollmer
~Joyce Vollmer