Hilary Thompson, French Horn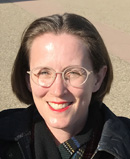 It was serendipity. One day a friend offhandedly remarked: "Oh you should play French horn." And so she did. And that eventually led to Prometheus. But, actually, it all began in Los Osos on California's central coast.
"My parents always had classical music blasting on the record player and we all went to lots of concerts," Hilary says. "I loved singing in school and church choirs when I was young."  In grade school, Hilary's grandmother gave her a tiny little electric organ with a book, and Hilary taught herself keyboard. Piano lessons followed, continuing through high school. She sang in the high school choir and really wanted to play in an orchestra, and "of course there aren't many parts for piano." So she played percussion, cymbals, and bass drum (or what else was needed) in the San Luis Obispo Youth Symphony. "I'd try anything!" (She's even played bells in a bell choir recently.)
Hilary went on to UC Santa Cruz, receiving a Bachelor of Arts in Music, with an emphasis on piano and performance. She's taught piano both privately and at the San Francisco Community Music Center since 1997.  She was even a church music director for a number of years in Point Richmond.
But wait, you say. I thought this was about a French horn player? Yep! That's where the serendipity came in. Hilary took her friend's remark in 2007 to heart; she just immediately bought a French horn. "I had one lesson at Best Music and I just took to it."
Hilary had a few lessons with a member of the San Francisco Symphony and it turns out she was simply a natural at it. "Then I was in a piano store and ran into someone who convinced me to join the Golden Gate Brass Band. I didn't really know the correct fingering yet, but I joined and this forced me to learn quickly!" She credits all her section mates for helping her learn to play better. "Playing piano can be such a solitary activity at times."  Playing horn in an orchestra allows me to learn from the people I play next to. Every section mate has had a treasure trove of information and experience."
Since that one day at Best Music in 2007, Hilary has played in the Community Women's Orchestra and several concert bands. She was filling in at a community symphony where she met a member of Prometheus and she joined us in October of 2015.  "It's kind of nuts and kind of miraculous that I'm playing French horn. It's so fun and I'm so grateful to all my section mates!" And we're so grateful for that friend!
~ Joyce Vollmer