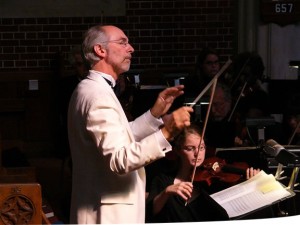 Music Director Eric Hansen and The Prometheus Symphony Orchestra present our concert series for the 2013-2014 , featuring well-established favorites as well as innovative works that are deserving of concert performance. We frequently feature local artists as solo performers to create the uniquely effective and powerful interplay of single instrument and orchestral ensemble.
The all-volunteer community-based Orchestra, located in Oakland, California, is devoted to the rehearsal and performance of master works of the symphonic repertoire. Founded in 1965, the Orchestra is currently associated with Merritt College of Oakland, California, a campus of the Peralta Community College District. This is our forty-ninth season of offering concerts to the Oakland Community.
» PROMETHEUS SYMPHONY ORCHESTRA 2013-2014 CONCERT SERIES  «
Download a PDF copy of our 2013-2014 Season Brochure <–HERE
CONCERTS ARE SUNDAY AFTERNOONS AT 3:00 PM at
St. Paul's Episcopal Church
114 Montecito Ave, Oakland · Directions
First Season Concert · Sunday, September 29, 2013, 3:00 PM
Richard Rodgers · Waltz from "Carousel"
Richard Wagner · Prelude to 'Die Meistersinger von Nürnberg'
Jean Sibelius · Symphony No.2 in D Major, Op.43
Second Season Concert · Sunday, November 17, 2013 3:00 PM
Hector Berlioz · Marche Troyenne from 'Les Troyens'
Antonín Dvorák · Scherzo Capriccioso, Op.66
Robert Schumann · Symphony No.2 in C Major, Op.61
Third Season Concert · Sunday, January 26, 2014, 3:00 PM      Concert Flyer (PDF Download)
Aaron Copland · Appalachian Spring (Ballet for Martha)
Charles Ives · The Unanswered Question
Antonin Dvorak · Cello Concerto Op. 104
Ila Shon, Khuner Concerto Competition Winner
Fourth Season Concert · Sunday, March 23, 2014, 3:00 PM
Richard Strauss · Don Juan, Op.20
Frederick Delius · Brigg Fair: An English Rhapsody
Carl Maria von Weber · Concertino in Eb for Clarinet and Orchestra
Kelvin Guo, clarinet, Khuner Concerto Competition Winner
Fifth Season Concert · Sunday, May 18, 2014
Maurice Ravel · Rapsodie Espagnole
Piotr Tchaikovsky · Symphony No. 5, Op. 64
---
There is no admission fee for our concerts but donations are always graciously accepted. Orchestra expenses are met by generous donations from players and the public. Help support the Prometheus Symphony OrchestraHERE.
**You can also help support the Prometheus Symphony Orchestra by purchasing an ad in our program to publicise your business or honor someone.
Our rates are very reasonable. You can get more information HERE or send email toinfo@prometheussymphony.org
If you would like to be notified by email of upcoming Prometheus Symphony events, please send email to:
info@prometheussymphony.org with the words: "Add to Mailing List" in the Subject line
Concerts are presented at:
Saint Paul's Episcopal Church
114 Montecito Avenue
Oakland, California (map)
The Prometheus Symphony Orchestra is supported in part by an ArtsFund grant from the Alameda County Arts Commission and through the generosity of Chevron Corporation