Ron Cohen, Trumpet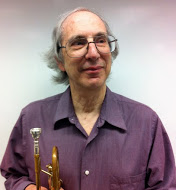 It's made of wood, it's fingered sort of like a recorder, it's buzz-lipped like a trumpet, it has some crazy shapes, and it's ridiculously difficult to play—Ron Cohen is mastering it and might like to play it with Prometheus, but not anytime soon. It's a cornetto (not to be confused with the modern cornet, which is a more tapered cousin of the trumpet), an instrument that was in high fashion during the Renaissance in Europe and in the New World through the 17th century.
Ron has been lead trumpet player with Prometheus since 1981; Mahler's First was his first concert, with Jonathan Khuner. That's more than 150 Prometheus concerts! He's also played the Vivaldi Concerto for Two Trumpets with us. And, if you partake of refreshments during the break, you'll see him leading the fanfare luring you back into the church.
Ron is originally from Upstate New York, where his parents decided he would be a child prodigy on piano, and enrolled him in the Eastman School of Music Preparatory Department at age 4. "Unfortunately, the teachers there knew a lot about music but not a lot about children. By age 6, I was a piano dropout."
A few years later, he was determined to find the most annoying instrument possible to play. It was either drums or trumpet. "Then I saw that they gave drum students quiet rubber drum pads to practice on. But no such mercy was given to parents of brass players—you could really blast a trumpet!" That was the decider. Ron and some friends felt that there wasn't nearly enough school band time, so they took to playing in neighborhood basements and garages on their own, with one of them waving a stick to conduct. "Everyone had a copy of the same music and we all played it just as it was—without transposing—it was pure cacophony. We loved it."
Private lessons followed, another stint at the Eastman School Preparatory Department (with much better results this time), undergrad and grad school at MIT (resulting in a doctorate in physics, along with playing in its and Harvard's very good orchestras), a move to California to work at Lawrence Livermore and Lawrence Berkeley National Labs, and finding the Prometheus Symphony Orchestra. He now hopes to play with us for another 30 years.
But still, this isn't nearly enough music. Ron also:
Sings in "Slavyanka," a Russian men's chorus (with some women)
Plays trumpet in "Kehilla Klez," a klezmer band
Sings and plays with Los Arribeños, a group dedicated to the historical music of Spanish California, ranging from sacred chanted hymns of the missions to lively fandangos.
Plays trumpet occasionally and increasingly with the Redwood Symphony
Oh, if you'd like to see Ron play the cornetto, he also plays that and trumpet with the Berkeley Bach Cantata group—they give one concert every five years so please be patient.
There may be some type of music that Ron has not yet played. Please let him know of it and he'll be sure to try!
~Joyce Vollmer