Eloise Bodine, cello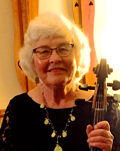 Not very many people travel to Kenya, head 120 miles east down the Mombasa Road out of Nairobi, and end up in the little town of Kitui. With a cello.
It all started back in Tracy, where Eloise grew up listening to lots of classical music on the radio ("we didn't have television back then," she laughs). After piano lessons for a couple of years, in 4th grade Eloise's school offered her a choice of instruments to play. "Cello. No doubt. I just liked the way it sounded." At school Eloise was taught to play cello by, gasp!, a violinist. "There wasn't a cello teacher in the entire town of Tracy." She continued to play until she was a sophomore in high school when she finally got real cello lessons from a real cellist, 20 miles away in Stockton. "Three or four of us carpooled to Stockton together and took lessons from different teachers on different instruments at the same time" (but not in the same room).
Eloise says that maybe her best training came when a family friend organized a Saturday evening chamber group that she and her sister (viola) played in during high school. And on that friend's advice, she traveled to Berkeley for lessons from the renowned cellist Ruth Saphir. Then on to Reed College in Oregon, where she majored in Psychology, took lessons from the principal cellist of the Portland Symphony and played duets with her cellist boyfriend and in occasional orchestra concerts. A highlight was playing Hadyn's Farewell Symphony with everyone but the 2 violinists turning out their lights and sneaking into the dark.
And then we get back to the Kenya trip. That's where Eloise went with her husband, Alan, who taught math & science for Teachers for East Africa for two years. While there Eloise had two kids and did play that cello a bit. Coming back here, she raised a family and admits she gave up cello for a few years until it dawned on her that adults could take lessons too! So she went to many, many chamber workshops and met Dorinda Chase, our wonderful former clarinet player, who encouraged her to come to Prometheus. Now, Eloise plays in Prometheus and four chamber groups…and we're enjoying the results of all her "lessons."
~Joyce Vollmer